30% off and a Review of the Lumie Body Clock Iris 500
Posted on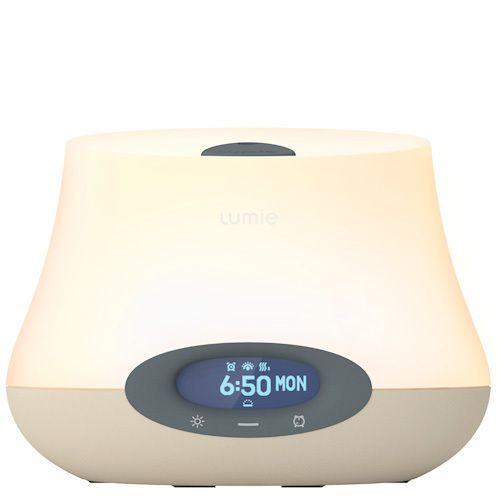 The Lumie Body Clock is an alarm clock that also has sunset and sunrise settings, plus 2 aromatherapy chambers to diffuse essential oils. At the moment, you can buy it for only £112, which is 30% off.
I bought mine on the weekend that the clocks changed in October last year. I have it set to daily timer, which means that you can adjust the time that your alarm goes off in the morning for each individual day. There are also settings for the sunrise, so before I wake up the light from the clock gradually increases to simulate a natural sunrise, which of course doesn't happen in the autumn/winter in the UK until around 8am in the morning! I also have mine set to aromatherapy and I use geranium essential oil and set this to diffuse for 45 minutes.
At night time you can do the same for sunset, so the light gradually dims and your chosen essential oil diffuses into your room. This is a soothing way to go to sleep and also brilliant for people with sleep problems as you can diffuse an essential oil to help you sleep. One of the most popular essential oils for insomnia is Lavender, but only add a couple of drops to the aromatherapy chamber as too much Lavender essential oil can actually be stimulating. Personally I diffuse Frankincense as it is calming to the mind and the nervous system.
I have found the Aromatherapy function to be invaluable as it helps me go to sleep and wake up with essential oils diffusing. I find that the sunrise light is very helpful as it helps me to feel much less sleepy and groggy in the mornings. As for the sunset light I haven't really noticed any difference to my sleep patterns or feelings of grogginess, but it is still a nice way to fall asleep, especially when combined with the essential oil.
Do be careful to AVOID using any citrus oils e.g. orange, lemon, lime, petitgrain etc as the instruction leaflet says to avoid using those in the aromatherapy chamber.
Overall, I can highly recommend the Lumie Body Clock a) for its capacity to automatically diffuse essential oils as you go to sleep adn wake up and 2) to help you feel more alert and awake in the morning due to the sunrise function.
If you want to find out more about the Lumie Body Clock, please click here.
Until next time
Zoe
x