Review of Neal's Yard Organic Wild Rose Beauty Balm
Posted on
Neal's Yard Wild Rose Beauty Balm is an award winning, best selling product and is 99% organic.
In terms of the ingredients, it contains
Rosa rubiginosa (Wild rose) seed oil*, Simmondsia chinensis (Jojoba) seed oil*, Cera alba (Beeswax)*, Butyrospermum parkii (Shea butter)*, Cannabis sativa (Hemp) seed oil*, Borago officinalis (Starflower) seed oil*, Pelargonium graveolens (Geranium) flower oil*, Rosmarinus officinalis (Rosemary) leaf oil*, Boswellia carterii (Frankincense) oil, Cymbopogon martini (Palmarosa) herb oil*, Pogostemon cablin (Patchouli) leaf oil*, Ascorbyl palmitate, Tocopherol, Citral, Citronellol, Farnesol, Geraniol, Limonene, Linalool.
*Organically produced ingredient. Natural constituent of essential oils listed.
The main ingredient is the Wild Rose/Rosehip Seed Oil contains Vitamin A (Retinol) and Vitamin C which is an excellent antioxidant and so helps to prevent free radical damage. Wild Rose oil also contains essential fatty acids which help to reduce fine lines and wrinkles, hydrate, heal (e.g scars, stretch marks), repair and regenereate the skin. It also helps to reduce sun spots and sun damage.
As you can see Neal's Yard Wild Rose Beauty Balm also contains other emollients: Shea Butter, Hemp Seed, Starflower oil and a blend of natural organic essential oils. If you apply the balm as a leave on product (e.g moisturiser) the essential oils will be absorbed into your bloodstream. This means that the essential oils will have additional therapeutic value above and beyond those of using them topically on the surface of the skin. This is one of the main reasons I love using skin care and body products from Neal's Yard as they contain essential oils which have powerful holistic health properties.
Geranium - acne, broken capillaries, congested skin, dermatitis, eczema, oily skin, mature skin, nervous tension, stress related conditions
Rosemary - boosts circulation, good for acne, eczema, regulates sebum production
Frankincense - blemishes, mature skin, wrinkles, scars, anxiety, stress related conditions, asthma, coughs and other respiratory conditions
Palmarosa - useful for acne, dermatitis, scars, sores, wrinkles, nervous exhaustion, stress related conditions
Patchouli - acne, cracked and chapped skin, dermatitis, eczema, oily skin, open pores, wrinkles, nervous exhaustion and stress related conditions
Where Wild Rose Beauty Balm really stands out as a power product is that it can be used in a variety of ways.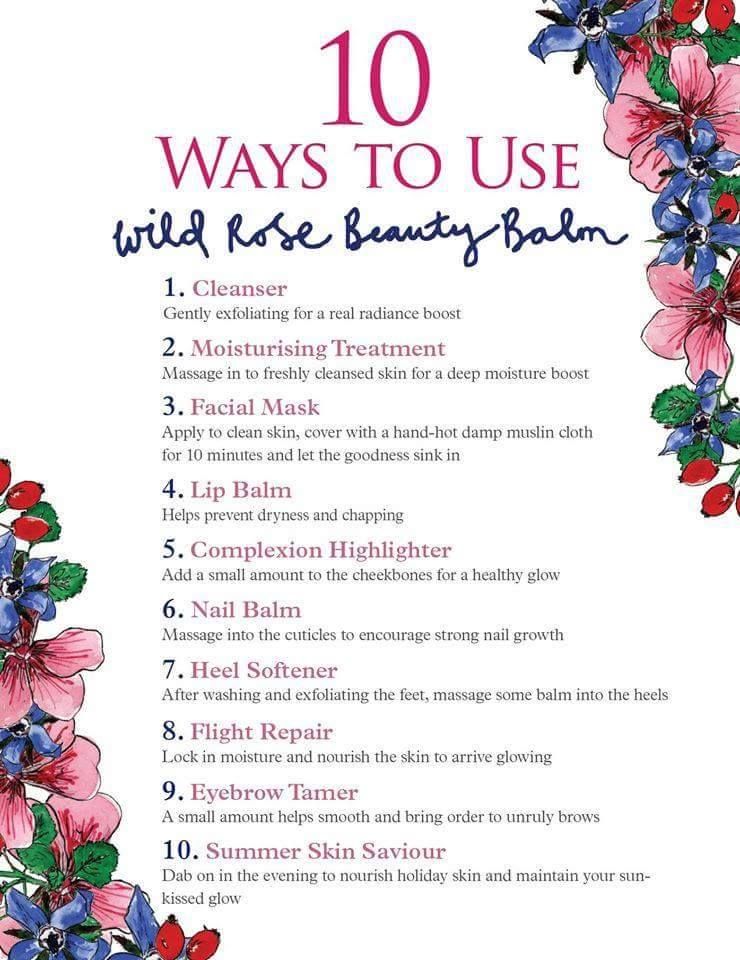 Personally I mostly use Wild Rose Beauty Balm as an intensive night time treatment during the winter when my skin is extra dry and none of my usual face creams moisturise my skin sufficiently. I do have dry/oily combination skin so if I use this in the day time, I tend to put it on my dry areas only to avoid over oiling my already oily T zone. If you have oily skin, this product may be most suitable for you as a cleanser or as a face mask, where you are only keeping the product on your skin for a short period of time.
The texture of the Wild Rose Beauty Balm is semi solid, which melts on contact with the skin. It is the perfect product for facial massage as it has a nice slip. I also use it on my clients who come to me for Holistic Face Massages. During cold weather, the Wild Rose Beauty Balm can feel slightly grainy on first contact with the skin, but this soon melts as the product warms up as you massage it into the skin.
Well that is all folks, if you are interested in purchasing the Wild Rose Beauty Balm, it is available on my personalised shop here .
If you are local to me in Stockport and would like to buy or try the Wild Rose Beauty Balm, I have samples and mini pots in stock for £12.50 (12.5g) and full sizes for £40 (50g). I also offer Holistic Face Massages with this gorgeous product.
Lastly, if you are a therapist and interested in becoming a Neal's Yard Consultant, please contact me or you can find out more information here.
Until next time
Zoe
x
Resources
1) Post Surgical Scars treated with Rosehip oil
2) Treatment of Skin Ulcers with Rosehip oil
3) Is Rosehip Oil Anti Ageing?
4) The Encyclopedia of Essential Oils by Julia Lawless