What are the Benefits of Natural and Organic Skin Care?
Posted on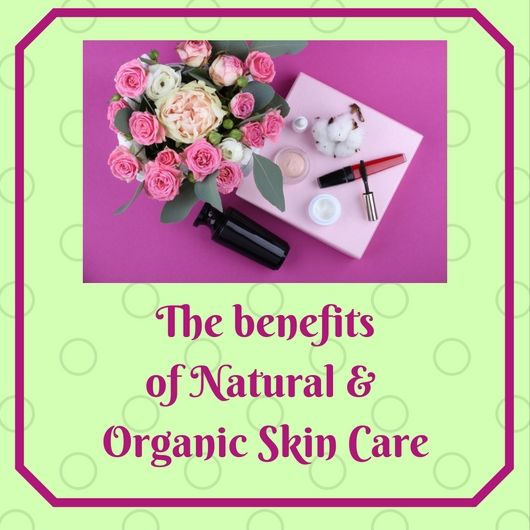 1) The most important benefit of using natural and organic skin care is that you are more likely to be using products which contain ingredients which are not harmful to your skin, your internal systems and the planet!
These are just some of the common, harmful ingredients found in skin and personal care products
DEA/TEA derivatives - associated with known carcinogens.
EDTA - a powerful metal ion chelator that doesn't biodegrade readily.
Parabens - concerns have been raised over estrogen-like activity.
Phthalates - Some phthalates are very toxic and they have been banned from EU products and other main markets.
Silicones - synthetically produced emollients which may block the pores
Genetically Modified ingredients
Synthetic fragrances - which can trigger allergies and asthma.
BHT - A petroleum derived ingredient, which is toxic to the aquatic environment.
Mineral oils - Derived from petroleum, a non-renewable resource from a polluting industry.
Triclosan - Research indicates this ingredient may contribute to antibiotic resistance in bacteria.
It is a known fact that some ingredients in many skin and personal care products are absorbed into our blood stream via the skin. There are many ways in which those ingredients can harm us once they are inside our internal systems.
Natural products are unlikely to contain any of the above harmful ingredients and in addition to this organic products will not contain any pesticide residues.
2) The ingredients used in natural and organic skin and personal care products are effective and are also often beneficial in multiple ways. For example, Lavender essential oil is helpful for acne, allergies, athlete's foot, eczema, inflmmations, psoriasis, burns, wounds, muscular aches and pains, asthma, flu, low mood, insomina, nervous tension and stress related conditions.
3) Natural and organic skin and personal care products are more likely to be biodegradable and therefore will not harm the planet. In contrast some ingredients such as plastic microbeads used in body and facial exfoliators are still polluting the oceans and affecting wildlife.
4) Organic products are produced using ingredients which are farmed in such a way as to "designed to minimise the human impact on the environment, while ensuring the agricultural system operates as naturally as possible". (EU)
5) Many producers of natural and organic products will also have strong ethical practices such as sustainability, fair trade and non animal testing.
If you are thinking of switching to natural and organic products, I would advise that you
Make a list of products that you use

e.g. skin care, body care products
Search for companies that sell natural and organic products.

Check the credentials of the company.

You can check if they are members of the organic Soil Association and other ethical accreditation bodies such as Fair Trade and Fair Wild, which ensure fair trading for their suppliers in developing countries. You could also check to see if they have any policy in place relating to sustainability, meaning that the ingredients they use are farmed in a way that does not mean they become depleted or endangered. Please note, to be fair, some small scale companies may sell natural and organic products and have ethical practices but may not be members solely due to the costs of accreditation.
You can also check the ingredients in their products and cross reference them with Safe Cosmetics website.
Once you have found a company or companies, try out some small sizes of their products. This way you can see if they are suited to your skin before buying full size products.
I hope this is of help to you
Until next time
Zoe
x
Subscribe in a reader