NEW! Shrinking Violet Fat/Inch Loss Wraps in Stockport
Posted on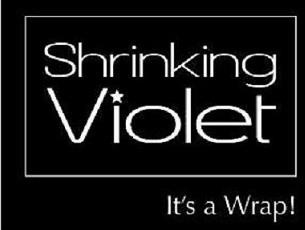 We have been offering various Body Wrap Treatments and Training Courses for some time now and have recently started to use a new product called Shrinking Violet. It is a revolutionary product which actually burns fat from within the cells resulting in fat and inch loss from the body!
Call us on 0161 476 3301 for your 1st appointment, you can pay online here or in person.
How Does it work?

The treatment product breaks down the fat in the cells so that it becomes liquid It is then excreted into the tissue fluid and eliminated through the lymphatic system. It is a powerful technique that can shrink waistlines by up to 2 inches in one session.
The amount of fat reduction varies depending on your build but immediate results can be seen. The product continues to work for up to 72 hrs after your treatment at which point you will see the maximum effect for that particular session.
If you are at the start of your journey to lose body fat and inches we advise a course of 6 weekly treatments combined with a healthy diet, drinking plenty of water and regular exercise. Shrinking Violet will burn off fat but will not firm or tone loose muscle which exercise will do. Once the fat is gone it is gone and will only come back if you make new fat. The treatment will not last very long if, after a treatment, the client then overindulged or returned to their eating patterns which caused the fat in the first place. For a maintenance plan, we advise a treatment every 3 to 6 months plus healthy diet including lots of water and regular exercise.
Treatment Procedure:
Shrinking Violet Body Wraps covers the areas of the body from the bust, bingo wings if necessary down to the tummy, hips, buttocks, and thighs,
First of all your body will be measured, then your skin will be exfoliated to remove any dead skin cells, then the Shrinking Violet Botanical Organic Oil is applied. Then you are then wrapped in body wrap film (like cling film), a cocoon of towels with a heated blanket underneath you (the heat helps to activate the product) after which you can relax for 60 mins whilst the product does its fat burning work!
Are there any after effects?
As the treatment results in fat being eliminated through the lymphatic system, you may experience increased urination for 1-2 days after each treatment.
Summary of Benefits:
Fat and Inch Loss - a great kick start treatment to use in conjunction with a "new body/new you" healthy diet and exercise program

Great treatment for special outfit events e.g weddings, Christmas parties, birthdays and other special occasions

Purifies and Moisturises the Skin due to detoxification (by means of the botanical oil used plus heat)

Brightens dull skin through the process of exfoliation

May improve the appearance of cellulite, stretch marks, scars and blemishes
Until next time
Zoe
x
Subscribe in a reader