Review of Caudalie Grape Water
Posted on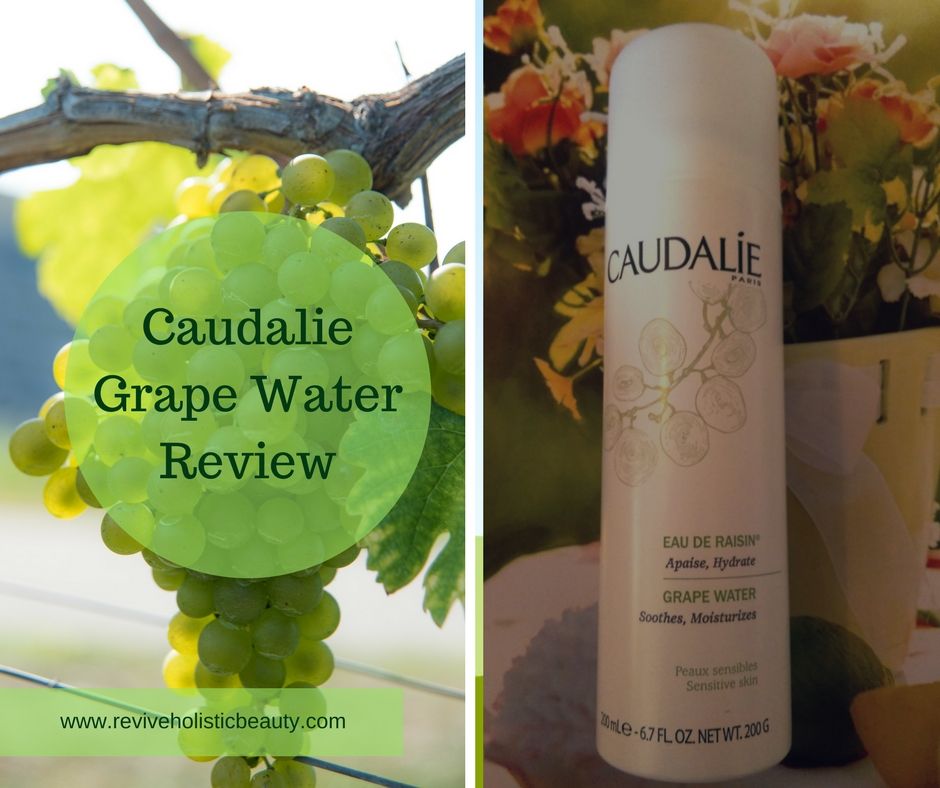 The French skin care brand Caudalie make a gorgeous Facial Mist/Toner made from pure organic Grape Water and is suitable for dehydrated and/or irritated, sensitive skin. Whilst there is no mention of it in Caudalie's description of their product, grapes and grape juice are a great antioxidant. Antioxidants limit the production of free radicals, which cause damage to the skin including premature ageing.
The ingredients are really simple and include just:
Vitis Vinifera (Grape) Fruit Water*, Vitis Vinifera (Grape) Juice*, Nitrogen. *Plant origin. It contains no preservatives nor fragrance.
"It all starts with the picking of fresh grapes during the very first days of the harvest. The harvested grapes are then pressed and distilled using a low-pressure process. This exclusive Caudalie process makes it possible to isolate water from the grape juice by evaporation and also purify and potentiate it. This exceptional water is combined with a very small dose of pure organic red grape juice to achieve the perfect formula: Caudalie organic grape water." Caudalie
Caudalie state that by using their Grape Water that
Hydration is increased by 127%*
Skin sensitivity is decreased by 61%**

Test conducted by an independent laboratory approved by the French Ministry of Health on 12 volunteers.
** Test conducted by an independent laboratory approved by the French Ministry of Health on 20 volunteers with sensitive skin.
Caudalie Grape Water is available in a handbag size of 75ml and a larger size of 200ml and is in an aerosol spray can type container, not a pump mist spray, which may not be to everyone's taste. It can be left in the fridge to cool, which makes it extra refreshing during warm weather.
As the Caudalie Grape Water is a versatile product, I use it for different purposes:
*As a Toner after cleansing my skin.
*Over my make up, particularly on the days when I just use powder products such as bronzer, blusher and highlighter and the dry areas of my skin show a few more wrinkles than I care for!
*During the day whenever my skin starts to feel dehydrated. This is often the case during Winter due to indoor heating and also during the Summer when the weather can be warmer and the air more dry.
*After I have either had certain types of facials e.g. microdermabrasion or used certain types of skin care products e.g Vitamin C or Retinol all of which are beneficial for the skin but can cause temporary redness, dryness and irritation.
I spray my Caudalie Grape Water at about an arms length distance and leave it to air dry naturally, without rubbing it in or blotting. It leaves my skin feeling soft, refreshed, hydrated and soothed with a definite dewy glow.
As it comes in a convenient spray container, I carry this with me in my handbag for when I am out and about. I find it most useful for when I am at corporate pampering events where there is no fresh air, often times no windows when in stores and a lot of artifical lighting, which dehydrates my skin.
Overall I love this product, I really can't fault it and for me it is a definite keeper.
If you would like to buy the Caudalie Grape Water, Look Fantastic have 2 x 200ml for £15 with free worldwide shipping. It actually costs £11 for the 200ml size on Caudalie's website, so the 2 for £15 is a better deal. If you would like to try before you buy the larger size, Allbeauty have the smaller 75ml size for £6 plus £1.95 shipping to the UK.
Ok, that's all folks
Until next time
Zoe
x
Subscribe in a reader