Glamglow Youth Mud and Supermud Face Masks Review
Posted on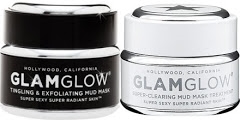 Review of Glamglow Youth Mud (Tingling and Exfoliating) and Super Mud Masks
Glam Glow's Mud Face Masks are all the rage this year, highly popular with A List Celebrities and Fashion models alike.
Here's some more information about the two Glamglow products I tried:
Youth Mud (Black jar)
A 10-minute professional-quality mud mask for men and women.

What it is formulated to do:
This mud mask leaves skin noticeably radiant and glowing. It activates moisturizing collagen synthesis, provides gentle resurfacing exfoliation, and helps to leave skin smoother, brighter, and softer. While providing tighter skin texture and tighter pores, it provides a more youthful appearance and absorbs impurities without removing natural oils.
Suggested Usage:
-Apply a thin layer to clean face (can also be used on the neck and chest).
-Remove mask with water in circular motions to exfoliate.
-Use twice a week or as often as desired.
-Seal lid tightly.
-To re-liquefy, add drops purified water and stir.

Ingredients:
French Sea Clay: Absorbs impurities and toxic substances, while leaving essential natural oils and minimizing pore size.
-Volcanic Pumice Rock: Multi-level surface exfoliation that you control to clear dead skin cells, smoothing out fine lines and softening skin texture.
-Green Tea Leaf Pieces: GLAMGLOW® groundbreaking patent pending TEAOXI™ technology delivers fresh Super-Squalene, EGCG super antioxidants, and Polypenols directly into the mud from the real pieces of tea leaf.

Water, Montmorillonite, Magnesium Aluminum Silicate, Polyethylene, Camellia Oleifera (Green Tea) Leaf Extract, Chamomilla Recutita (Chamomile) Flower Extract, Calendula Officinalis Flower Extract, Cucumis Sativus (Cucumber) Fruit Extract, Hedera Helix (Ivy) Extract, Symphytum Officinale (Comfrey) Leaf Extract, Lavandula Hybrida (Lavender) Oil, Glycerin, Fragrance, Phenoxyethanol, Methylparaben, Butylparaben, Ethylparaben, Propylparaben, Diazolidinyl Urea.
Super Mud (white jar)
What it is:
A scientifically advanced SUPER-MUD™ clearing treatment to target, prevent, and heal problem skin.

What it does:
This formula was clinically developed by GLAMGLOW® dermatological chemists to help fight all common skin concerns, including breakouts, discoloration, black and white heads, razor bumps and in-grown hair.

Suggested Usage:
-Apply a thin layer to clean skin.
-Leave on for five, 10, 15, or 20 minutes.
-Pore-Matrix™ will reveal dots of vacuum extractions.
-Remove with water.
-Use as often as needed.
-Use as a full mask or spot treatment.

Ingredients
ACNECIDIC-6™: 4.4%; a proprietary six-acid blend of AHA and BHA acids perfectly PH balanced to deal with damaged skin, de-clog, and minimize pores, pigmentation, scaring and breakouts.
-Activated-X Charcoal: An extreme absorption carbon, attracting toxic substances into its mass up to 500 times its volume from all skin types.
-K17-Clay™: Extracts and encapsulates excess sebum oils, bacteria, and toxins in a controlled stasis state.
-TEAOXI™: Delivers daily fresh natural eucalyptol, natural-linalool oil, and powerful flavonoids direct into the formula from real pieces of eucalyptus leaf.

Water, Kaolin, Magnesium Aluminum Silicate, Sodium Hydroxide, Eucalyptus Globulus, Mandelic Acid, Charcoal, Parfum [Benzyl Benzoate, Linalool], Glycolic Acid, Lactic Acid, Azelaic Acid, Pyruvic Acid, Salicylic Acid, Xanthan Gum, Aloe Barbadensis Leaf Juice, Maltodextrin, Iron Oxides, Peppermint Oil, Butylene Glycol, Glycyrrhiza Glabra Root Extract, Glycerin, Chamoilla Recutita Flower Extract, Calendula Officinalis Flower Extract, Cucumis Sativus Fruit Extract, Hendera Helix Extract, Symphytum Officinale Leaf Extract, Phenoxyethanol, Methylparaben, Butylparaben, Ethylparaben, Propylparaben, Isobutylparaben, Methylchloroisothiazolinone, Methylisothiazolinone.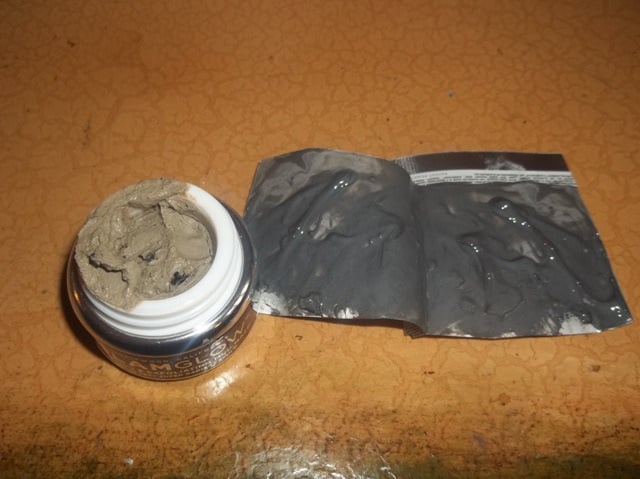 Left: Glam Glow Youth Mud Right: Glam Glow Super Mud
Review:
Ok, so I was kindly sent some free samples from one of the UK Distributors and decided to trial them both at the same time. I have Dry/Oily combination skin so put the Youth Mud on my Cheeks and Forehead and the Clearing Mud down my nose and chin, where I have quite a few whiteheads and blackheads.
The texture of the Youthmud has a slightly gritty feel due to the exfoliating properties and the Supermud is smoother with a runnier consistency. Both have a refreshing scent. First of all I cleansed and toned my face and then applied the masks. I left them on for around 20 mins and washed off, they left my skin feeling a little tight but not as much as if I just use a regular clay face mask. I ended my facial by applying some camellia oil.
The results, well my skin felt refreshed but no more than when I apply any face mask and I did not see any visible difference in the blackheads and whiteheads around my nose and chin where the Clearing mud was applied. Overall for me, these were mediocre face masks, for which I would give a rating of 3/5 but then when considering the price (up to £49.99 for 50ml) I would have to say 1/5. I feel that I could have got similar results from a clay based face mask that cost say £10 or less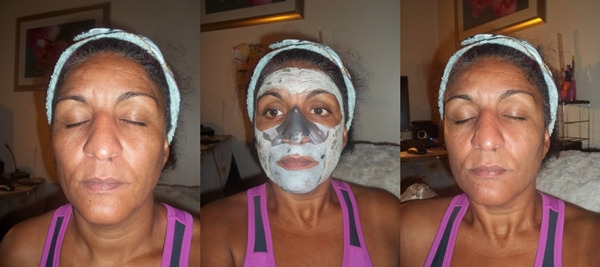 Before, During and After
Until next time
Zoe
x