CND Vinylux Review Days 1 to 5
Posted on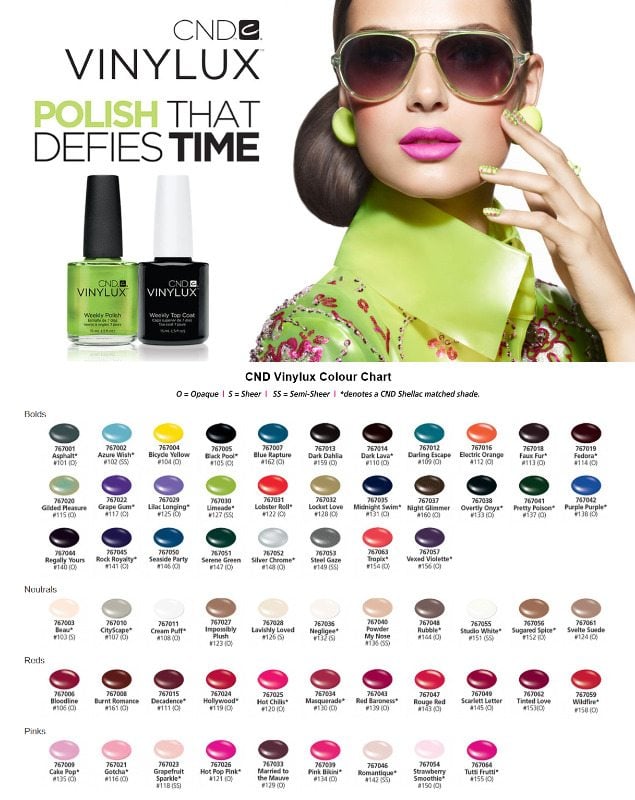 Vinylux is a new revolutionary type of nail polish pioneered by CND the makers of the highly popular Shellac Power Polish.
What makes Vinyluxdifferent to other polishes?
It requires no base coat so application time is faster

It can last up to 7 days (with common sense nail care and regular cuticle oil)

It dries in 8 1/2 mins, again so application time is faster

The top coat actually toughens over time with exposure to natural light with ProLight technology
At present, Vinylux is available in 72 colours including many of the Shellac colours, an added bonus for customers who for example want to Shellac their Hands and just want to apply a polish to their toes in the same colour at home.
Anyway that is the preamble, down to the review of days 1 to 3. A little background, naturally my nails are weak and I normally can't last a day without chipping my nails. This is not normally due to polish but my activities, doing treatments, gardening, typing on the computer, crafting, etc, my work and hobbies are hand heavy!
The application was fine, it felt a bit weird to not use a base coat and I found it was best to do 2 medium layers (not too thin and not too thick) and just lightly brush on the top coat. I found that if your 1st layer was too thin, it looked a little streaky. The polish consistency is neither too thick nor too runny and it is easy to overload your brush so just swipe any of the excess off before applying. The finished application has a brilliant shine similar to that of Shellac but I have found that it has dulled slightly by day 3.
I am now on Day 3 and I have not one chip in sight, I can see teeny tiny signs of wear at the very free-edge (tip) of my nails. I don't think I sealed them as well as I should have done with the Top Coat, its a challenge as my nails are quite short. My nails also feel strengthened, like when I have a nail strengthening base coat on. So all in all up to now I am very pleased with the results if a little irritated that I am now bored with my polish colour as I like to change it up so much! Anyway stay tuned for Days 4 to 7.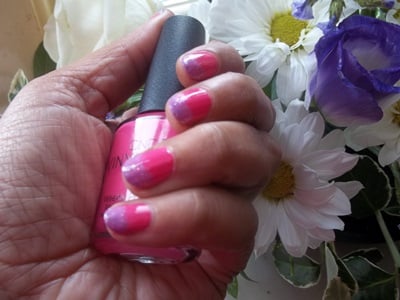 Pink Bikini and Lilac Longing Day 1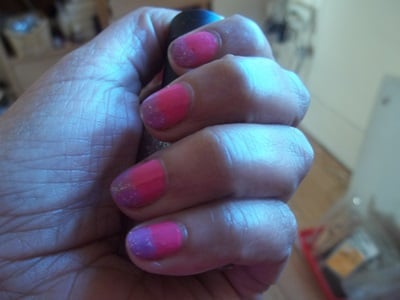 Day 3 sorry about the lighting
Update: Boredom bit me and I changed my polish before the 7 days and forgot to take a photo before I removed it - so here is my next application using CND Vinylux in Lilac Longing with another brand polish, some foil and a few rhinestones on the ring finger.
This time I capped the free edge with two coats of Top Coat and I got an amazing 5 days out of it! Seriously for Ms Chip My Mani in 1/2-1 day that is amazing :) By the way, unlike my 1st experiment I took this application off after 5 days as it needed it due to some obvious chips on 4 nails (the thumbs and little fingers are both still totally wearable though) rather than I got bored of it.

My overall verdict is that for people who
a) like to change their polish regularly but still want it to last more than a few days - I mean who has time for a mani every 1 or 2 days?!
b) chip their polish easily
c) are not into Shellac or other Gel Polishes as they don't want a 2-3 week manicure
d) may want a Shellac manicure & a Polish pedicure in the same colour
then CND Vinylux is perfect!
***
For further information on Manicures and Pedicures I offer using Vinylux longlasting polish and Gel Polish, please click here.
Subscribe in a reader